What makes a person "difficult" to deal with? Sure, they may have attitudes or behaviours that are frustrating, but the really difficult part is handling your triggered emotions – your anxiety, your stress, your anger, etc.
If you can handle the emotional triggers you can truly clear the way to your personal success.
Take Jill's situation, for example. Jill felt extremely uncomfortable having to confront her employee about a negative situation at work.
Watch this live and unrehearsed video to discover how Jill used the Wellspring Method to deal with her difficult situation …a situation she had been stewing about for several weeks!
Jill explained that she was the owner of a hair salon with four employees. She needed to talk to one of them about some issues at work, but she was putting it off because she was experiencing a great deal of anxiety over it…  Basically, she was AFRAID of how the employee might react.
I started, as I often do, with the question, "When you're in this situation in the future, would you rather feel stressed and upset… or strong and confident?"
She smiled… It seems like such a silly question.
And yet, it goes right to the heart of the problem – almost any problem. She went along with it and responded, "Strong and confident".
Then I asked her how she would like things to be instead. She had to reflect a little longer this time…
…Have you ever noticed how hard it is to see a positive outcome when you're in the middle of a situation that triggers your stress?
She finally said, "I'd like to be able to discuss issues with my employees whenever they come up without feeling worried or stressed about it", and she rated her Level of Stress as an 8 out of 10.
By the end of the session, Jill knew, from inside herself, EXACTLY what she was going to do about her situation. She went on to generate positive new ideas for creating a healthy working environment in the future – where issues could be discussed easily at regular weekly get-togethers.
Jill could hardly believe that she could feel so much better and resolve so much in just one hour!
I met with Jill three weeks later. She was the picture of poise and confidence.
Her employee meeting had gone beautifully! The issues had been resolved so easily that she was almost embarrassed to think of how she had created such unrealistic scenarios in her head purely out of worry and stress.
This is what I see ALL THE TIME! … see more success stories
Almost always, once a person eliminates their anger, fear and stress they AUTOMATICALLY become FAR more capable of dealing with their issue.
That was certainly true of Jill. I actually provided no information or ideas whatsoever about how to deal with her "difficult" employees!
Could My Methods Help YOU Resolve Your Difficult People Problem?
If I were to help you with this problem in my office in-person, it would cost you $200 per session and my waiting list is several months long. But because this method works so well, I wanted to find a way to help a lot more people.
So I created a step-by-step process called The Wellspring Method and it's now available for you to resolve your problems with a difficult person or manage a stressful situation in your life right away!
This simple method will help you to…
| | | | |
| --- | --- | --- | --- |
| | | Influence someone to change their annoying behavior while improving your relationship, not damaging it or making things worse, | |
| | | Generate calmness and understanding with someone who is angry, | |
| | | Promote healthy communication with people who are reserved, resistant or holding back, | |
| | | Remain calm and confident when dealing with someone who is argumentative or critical, | |
| | | Resolve conflicts constructively and creatively, | |
| | | Deal effectively with controlling people, | |
| | | Successfully address gossip, backstabbing, manipulative and disrespectful behavior, | |
| | | Turn your anxiety and stress into powerful confidence as you prepare for upcoming challenges or difficult situations, | |
| | | Deal with pushy, bossy or attacking behavior, | |
| | | Turn your frustration and anger into effective problem-solving. | |
The next time you're facing your difficult situation or dealing with that difficult person, would you rather feel angry, stressed and frustrated or calm, strong and confident?
And, in which mental state do you think you'd be more successful when dealing with that person or situation in the future – frustrated and stressed, or strong and confident?
The Wellspring Method can do this for you, but it can also help you generate constructive ideas for dealing with your unique situation that are far more personal, specific and useful than any article you could read or advice you could receive.
Learn How To Turn Problems With People Into Successful Solutions!
Would you like to create a positive change with that stressful situation in your life?
What if you could see the difficult person in your life and NOT feel frustrated, anxious or stressed?
How much would it be worth to you if you could actually get them working WITH you instead of against you?
For less than the price of single coaching session you could be using my step-by-step problem-solving system to create the positive changes you want within the next few hours…
Take Charge and ORDER NOW! because the sooner you act, the sooner you'll achieve the positive results you want.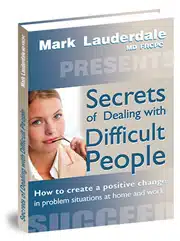 step-by-step problem-solving method to help you calmly and confidently create the positive change you want when dealing with difficult people (available in eBook or Soft Cover).Price: $17.00