During a one-year online survey on this website visitors were asked to describe the difficult people and behaviors they were dealing with…
Of the sample of 493 people who were dealing with difficult employees, the most common difficult behaviors were identified as uncooperativeness, negativity, manipulative behavior and backstabbing. Together these 4 behaviors accounted for over 50% of all difficult behaviors shown by employees.
The most common behaviors of difficult bosses (accounting for 51% of 900 responders) were controlling behavior, bullying and verbal abuse.
Therefore, it seems that the most common problem between employees and bosses or managers occurs when a boss tells an employee to do something in an angry or controlling manner and the employee responds to this by being negative and uncooperative. After all, who wants to please someone who is being rude or unkind!
In a similar way, an employee may start by being negative or uncooperative (or any other negative behavior) and an employer may naturally react by feeling angry and frustrated. Some managers may deal with these feelings inappropriately by becoming verbally abusive, controlling or forceful in their approach (i.e., bullying).
So, you can see a nice little vicious cycle here. Bosses get angry and aggressive when their employees aren't doing what they want them to do and difficult employees, while also feeling angry, show it passively through lack of cooperation and negativity. As things heat up, each tends to become more entrenched in their negative behavior.
So, How Do You Deal With a Difficult Employee?
After confronting an employee about an issue in the workplace, what steps or goals do you set in place to change behavior (or what do you advise others to set in place)?
First, Target the Specific Problem Behavior
It's very important to be clear about the specific behavior you want the employee to change. General requests such as "change your attitude" are too difficult for an employee to address, whereas "being late too often" or "making too many mistakes in a certain task" are much more specific.
It may take some thought to identify the specific tangible behaviors, particularly if there are several issues with a problem employee. If the behavior is something you could actually observe as it happened, then it is specific enough. Learn More about Targeting Problem Behavior ..
"I was experiencing a problem dealing with conflict both at home and at work. After using the Wellspring Method I am very pleased with the results. I found it to be tremendously helpful and encouraging, strongly recommending it for anyone."

– Charles Dunwood, Teaching Assistant for Special Needs Students
Next, Be Clear About Your Goal
It's not enough to address an employee's shortcomings and faults. Instead, be clear about the exact behavior you would like to see and formulate this as a positive goal so that the employee will have something positive to work towards.
It's hard for a person to stop doing something. It's much easier for them to do something else instead. For example, "Stop arriving late" is harder to respond to than "Start arriving at 8:45am". Learn How to Set Effective Goals ..
"I had a problem with some of my employees. I was having a hard time talking to them about any negative situations at work. I found that using the Wellspring Method to visualize the situation from start to finish really helped me work through the problem without any stress. Next week I'm going to speak to the employees and I feel totally confident about doing that. I also came up with some good ideas for creating a better working environment in the future."

– Jill Neil, Owner of a Hairdressing Studio
Eliminate Your Negative Emotions
If you address any problem from a negative emotional state you will automatically say and do the wrong things. Dealing with a difficult employee from your positive emotional state is absolutely essential.
Ask yourself this… Will you be more effective in getting the result you want from an employee if you're feeling nervous, stressed or angry… or if you're feeling calm, strong and confident? The answer is rather obvious isn't it? Learn the Best Way to Shift Your Emotions ..
"This program helped me to put the demands of work into perspective. People have known that I've been stressed about the pressures and expectations of my job for awhile now, but the program helped me learn to take things much less personally. It worked a lot better than I thought it would in the beginning and I was really impressed that my issue could be resolved so quickly! It's like issues that are stressing you just become non-issues, so you can get on with enjoying life."

– Ron Betuba, Customer Care Representative
Create a Learning Experience to Motivate the Other Person to Change
Setup some ongoing practice and feedback for the employee as they learn the new behavior. Here's an example…
I had two office employees (on separate occasions) who made too many mistakes when they first started working for me. I explained to each employee that I would have them re-do absolutely every mistake they made in order to learn how to perform the office procedures correctly. I explained that making mistakes was a good way to learn and I encouraged them to make a lot of mistakes so that they could really learn properly.
The first employee felt stressed during this learning process, but managed to get the hang of it and turned out to be a good reliable employee – a change that I welcomed. The second person continued making mistakes, became frustrated and resigned within two months – which was also a change that I welcomed. How to Motivate Change in People ..
"Dr. Lauderdale has developed a system that can be used to resolve a wide variety of real life problems. I have seen this system work to help many people overcome many difficult situations. Dr. Lauderdale's unique skills and training have enabled him to develop an approach to life challenges that is quick and effective."

– Jane Bradley, PhD?Clinical Psychologist
Reinforce the Positive Change
The best way is actually the simplest: Give valuing compliments, sincere appreciation and meaningful praise. People love, even need, attention and to be valued by others, especially others who are perceived to be "above them".
When a manager takes the time to ask an employee to come into his or her office, asks them to sit down and then proceeds to describe how well that employee handled a particular situation or made a positive change and how impressed the employer is by the employee's effort, ability, attitude, etc. using sincere direct eye contact, it will have a powerful positive effect that motivates the employee to try even harder.
It seems so simple and yet the action of "making someone feel good" is so often overlooked in the workplace. However, it is invaluable in preventing employee problems and improving morale and productivity. How to sustain a positive change ..
Learn From a Professional Who Helps
Others Deal With Difficult People Every Day
No matter how an employee PUSHES YOUR BUTTONS it's important as a boss to deal with these difficult employees in a calm, confident and effective way.
Secrets of Dealing with Difficult People is a comprehensive step-by-step guide to help you reach inside yourself, tap into your inner confidence and power and begin getting the results you want from your employees and other difficult people around you.
Just think how much easier your job would be if you were communicating successfully and managing office politics. Learn to confront your employees without having the situation spiral into defensive behavior, backstabbing or lack of motivation.
By clicking below you'll have access to 201 pages of proven methods to coping with the difficult people in your life. Written by Dr. Mark Lauderdale, psychiatrist and personal effectiveness coach, "Secrets of Dealing With Difficult People" will refocus your efforts and your inner abilities in dealing with your difficult employees so you can spend less time praying for the results you want and more time seeing them!
You'll Also Receive the Following
FREE Bonus Reports with Your Purchase!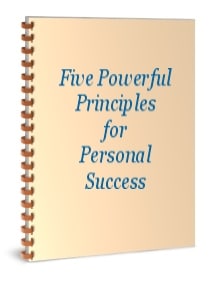 This Series of 5 Special Reports, "Powerful Principles for Personal Success", will teach you how to stay on track to achieve the ongoing personal success you want at home and at work.
Once you start to understand how to use these techniques better, it's important to be able to set and achieve your goals effectively.
That's where these Special Reports come into play. They'll help you stay on track through the daily stresses to achieve lasting personal success at home and work.
… See Inside
VALUE: $49.75…
YOURS FREE!
.
.
Your No-Risk Guarantee!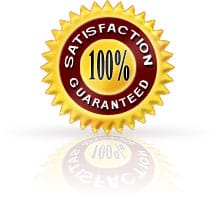 You have a 1-year 100% satisfaction guarantee – if you're not completely happy with your purchase for ANY reason, simply contact us anytime within one year. You'll receive a FULL REFUND with no questions asked. This is truly a 100% risk-free offer.
.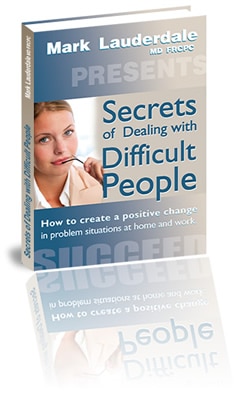 Unlike other books, this 201-page book shows you a tested systematic method to help you calmly and confidently create the positive change you want when dealing with difficult people.
Order Now!
"WOW!! It's like a light came on for me. I can now see where I contributed to a problem and what I could have and should have done differently to ensure a better outcome.

I will definitely use your method in all my future endeavors. I will practice the techniques and am sure I can turn situations around in the future for the benefit of everyone. This is a great value!! Thank You So Much."

– Linda Edwards, Purchasing Agent
Live Powerfully!

Mark Lauderdale MD FRCPC
Psychiatrist and Personal Effectiveness Consultant
P.S. I caution you that it's NOT A GOOD IDEA to waste even one more day with the stress of your difficult employee hanging over you because anger, anxiety and stress are EXPENSIVE emotions.
Frustrations and stress cause you to SAY and DO things that you will regret later! The stress emotions rob your time and they waste your money – through lost productivity, wasted time and energy searching for advice, more mistakes, conflicts, lack of focus and ineffectiveness at work.
Instead, go into your workplace tomorrow with your head held high knowing that you can deal effectively with the problem.
Take charge NOW! because the sooner you act, the sooner you'll achieve the success and well-being you desire.