Does Your Child Have Sleep Anxiety?
A Real Solution Developed by a Child Psychiatrist
Bedtime Hero uses an innovative therapy method developed by Dr Mark Lauderdale that has already helped hundreds of children with sleep anxiety,
Bedtime Hero is an online program, so you can help your child at home,
Bedtime Hero interacts directly with your child to clear up the 7 most common bedtime fears,
This Program is suitable for children and teens aged 6 to 14 years,
| | |
| --- | --- |
| | Receive tips and strategies to boost success via email |
| | Your email address will not be shared with anyone |
Get Your Bedtime Hero FREE Trial and Start Having Happy Bedtimes at Your House
See Your Child's Confidence Grow
• Help your child stop being afraid to sleep alone • Eliminate their fear of the dark, monsters, nightmares and intruders • Help them blend in feelings of strength and confidence from positive life experiences to remedy their bedtime fears
Enjoy the Animated Interactions
• Children like the animations that stimulate their imagination and good feelings • The step-by-step system allows your child to be creative and generate their own ideas
Experience the Rapid Positive Change
• Help your child to stop being afraid to sleep alone
within weeks
, not months or years • Far more effective than the simple tips you'll find by searching online
• No need to waste more time searching for tips that don't fit or don't last
Get Uninterrupted Sleep
• Reclaim your personal space and enjoy your uninterrupted sleep
• Relax knowing that your child isn't afraid to sleep alone anymore
Highly Effective
• This program is based on a therapy method that has proven effective with hundreds of children in an office practice
• No need to wait for an appointment
• It can be used along with counselling to speed up change
Appreciate the Convenience
• Use it when it's convenient for you in the comfort of your home
• Many tips and strategies are included within the Program!
Help your child with sleep anxiety overcome their fears with this one-of-a-kind online program.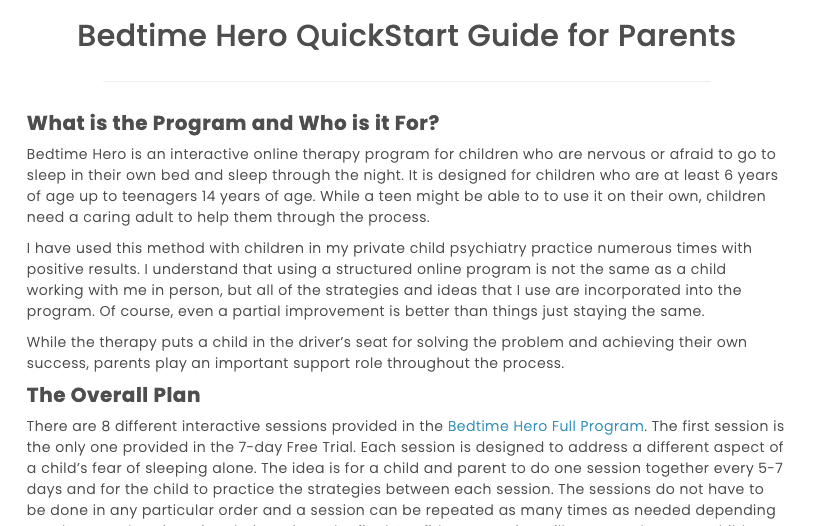 How to prepare your child
Use the QuickStart Guide to learn how to prepare your child for change and see an overview of the steps involved in the process.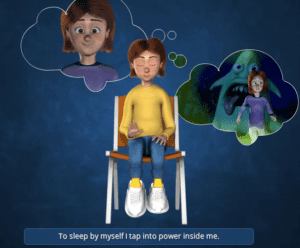 Watch the animations engage your child
Disney-style images and animations are child-oriented to help engage and motivate your child as the program demonstrates how to tap into their hidden ability and confidence.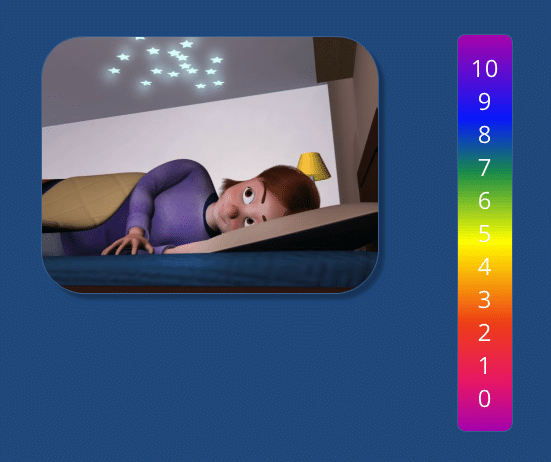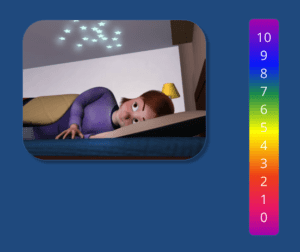 Measure the successes
Your child will regularly rate their level of bedtime anxiety on a scale from 0 to 10 so that you can both see their improvement from week to week.
Receive Dr Mark's guidance
Dr Lauderdale's voice guides your child through the process and videos of Dr L personalize the interaction.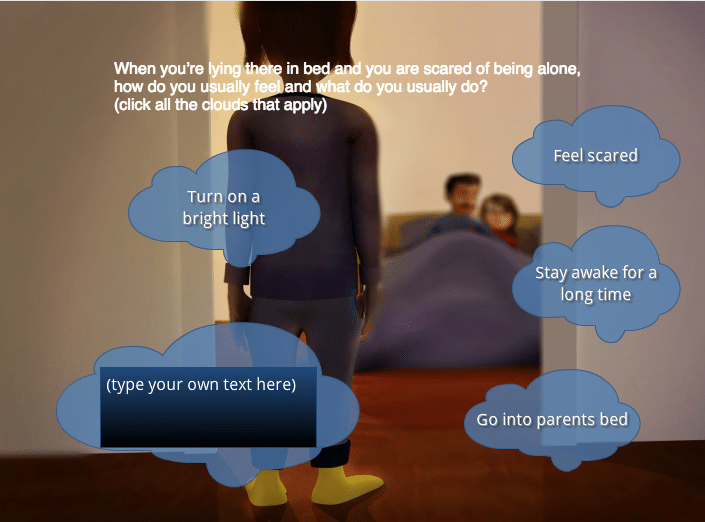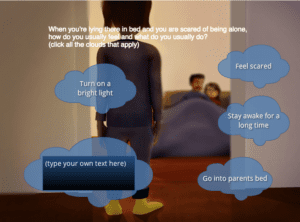 Solve the problem one bit at a time
The problem is divided up into manageable pieces so your child isn't overwhelmed by excessively high expectations.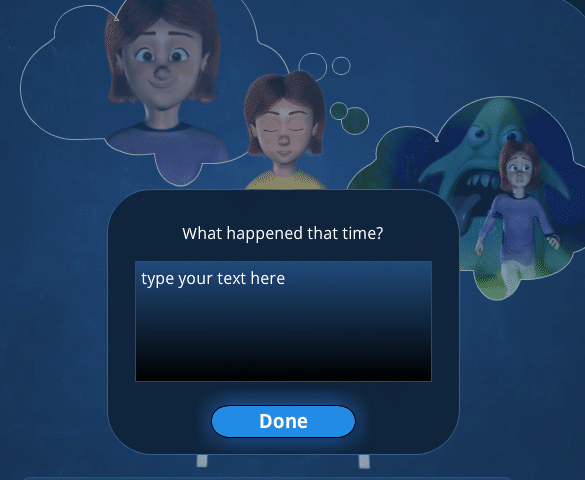 See your child generate solutions
Response entry boxes are provided on screen throughout the process for your child to enter their ideas as they work through the problem.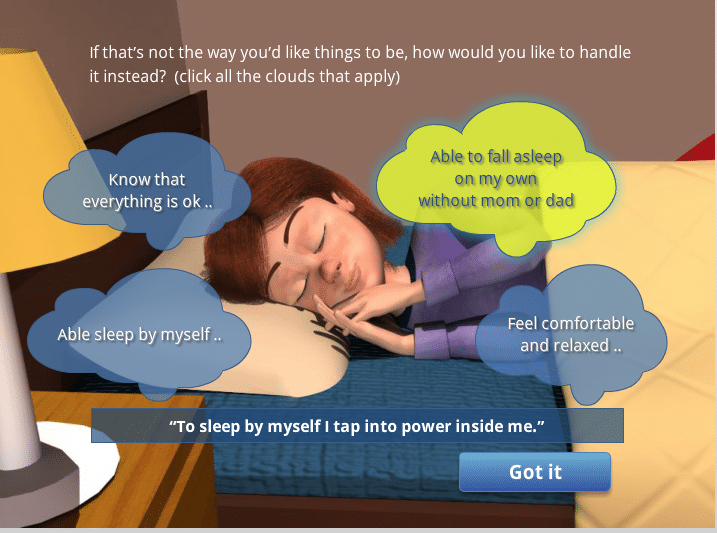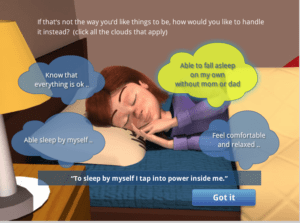 Get tips and suggestions
At key times during the process constructive ideas and suggestions will be presented to your child when your child is most likely to be receptive.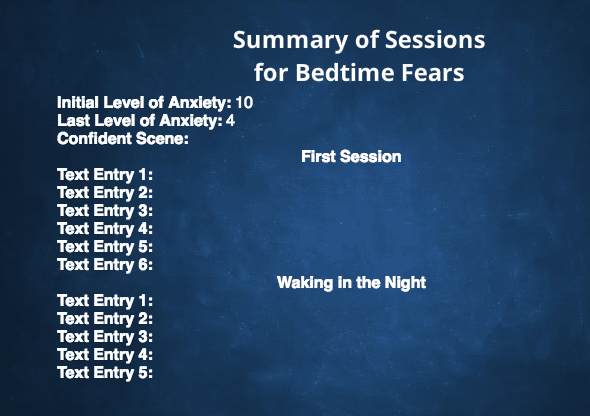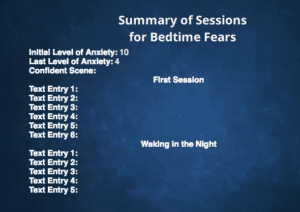 Track your child's progress
Your child's responses and ratings can be saved for your reference or shared with Dr Lauderdale if desired.
Build an attitude of confidence
.
"It actually felt really good to sleep by myself!"

"The big prize is .. I'm not afraid to sleep alone anymore."

- Keana, age 9
Experience a powerful therapy method
developed by a child psychiatrist that has
already changed the lives of hundreds of children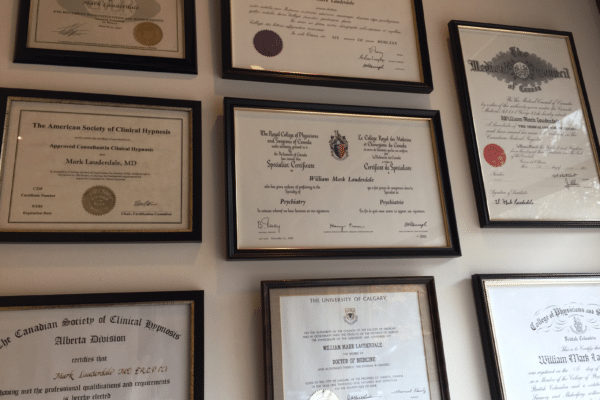 Use the knowledge and experience of a seasoned professional
Dr Mark Lauderdale is a child and adolescent psychiatrist with over 30 years experience helping children with anxieties and fears.
• Fellow of the Royal College of Physicians (Canada),
• Past President of the Canadian Society of Clinical Hypnosis (Alberta),
• Previously an Associate Professor of Psychiatry with the University of Calgary,
• Provided consultation to several in-patient mental health and pediatric programs,
• Trained in many therapies including cognitive behaviour therapy (CBT), family therapy and hypnosis.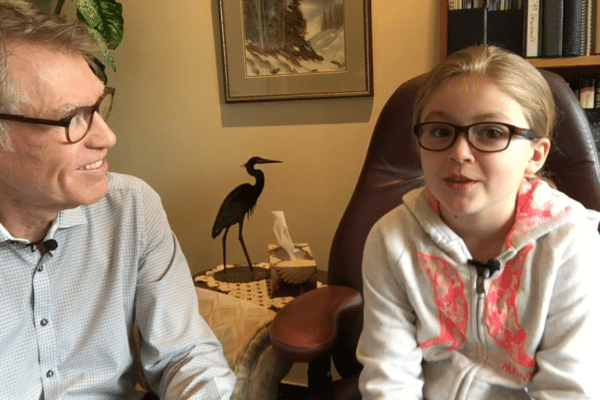 Use a proven method with exceptional results
The Wellspring Method was developed and refined over 20 years in clinical practice.
• It is several effective therapies blended together into one step-by-step process,
• It helps children feel strong and confident when facing a challenge, such as the nighttime fears and anxiety they experience when sleeping in a darkened room,
• In a case review of children with clinical sleep anxiety, 84% were totally improved and another 10% were partially improved,
• The Wellspring Method is currently the focus of a research study at the University of Victoria.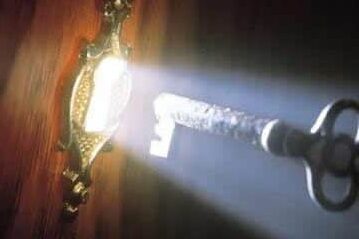 Stop searching for the solution to your child's nighttime fears and anxiety - you've found it.
Be careful with sleep anxiety tips and strategies you find on the internet.
• Every time you use advice that fails, it reinforces your child's belief that they can't learn to sleep alone,
• Children like the feeling of learning to do something on their own (internet tips and strategies don't always support this),
• The key to real change is that it occurs best from the inside out,
• Bedtime Hero motivates and assists your child to solve their sleep problem themselves.
Give Your Child the Confidence They Need
to Sleep through the Night in their Own Bed
SIMPLE AS 1, 2, 3 with this effective online tool
Choose the Option Below that Best Suits Your Needs ..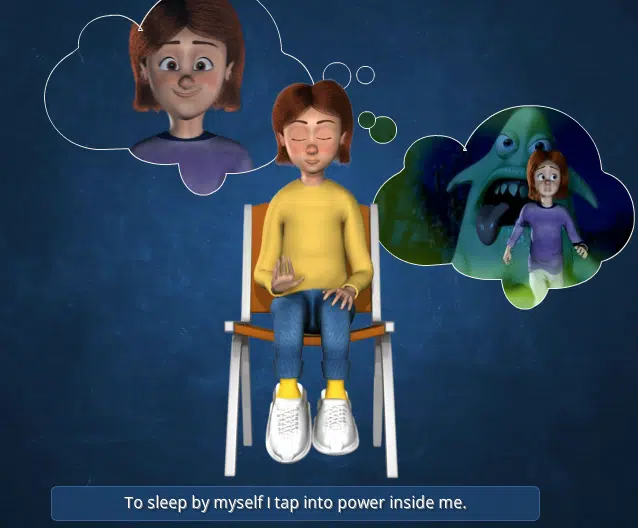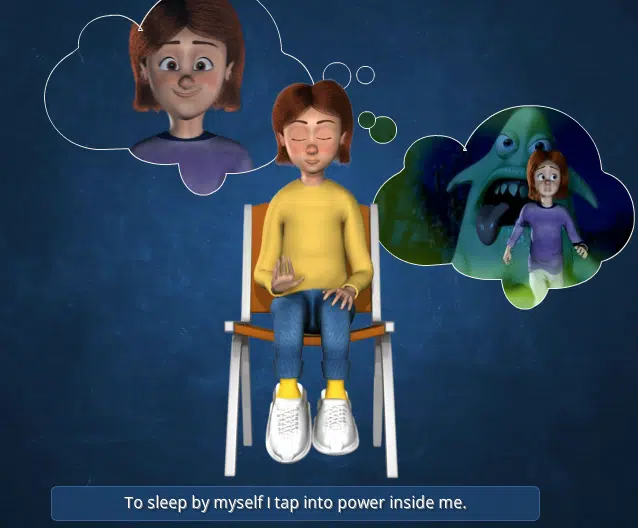 The interactive online program that helps your child gain the confidence to sleep on their own (Full Access for 1 year)
PLUS
the Bedtime Hero ebook. Both are based on the therapeutic method used in Dr. Lauderdale's child psychiatry practice.
Includes the QuickStart Email Series for Parents with tips and strategies to boost success.
Bedtime Hero Reviews
4.7 out of 5 stars (based on 24 reviews)
Wonderful Program!
As a clinician, I tried my hand at my daughters sleep woes myself — to no avail for almost a year. We recently started this program and within a week noticed a HUGE turnaround! Beyond grateful and pleased with the program and the deep kindness that Dr Lauderdale has bestowed upon us our interactions. I recommend this program with enthusiasm!
Falling asleep easily
My child's high level of anxiety about intruders was 8 out of 10 initially, but after only 3 weeks was feeling totally confident about sleeping alone and is now falling asleep easily.
Able to work through anxiety
After 8 days of using the program my child's anxiety level dropped from a 9 (out of 10) with tears at bedtime to only 1 out of 10 and now feels totally confident about sleeping alone. This has been a great help!
Completely resolved
Thank you so much for creating this program and keeping it affordable for families. It truly helped my 11 year old son! When we went through the program our son even picked "going to the water park" as his positive experience before he heard the example. He felt understood. We love how it targeted exactly what he needed and how it did it so effectively. (Feel free to use as a review)
Sleeping in own bed after 2 weeks
Sleeping in own bed, much more confident, able to go back to sleep on own. Puts self back to sleep sometimes. Started the program 2 weeks ago. Level of confidence about sleeping alone is now a 9 out of 10.
Thank you for such a wonderful program
My daughter feels a lot more confident and happier about her room, and being in it by herself. She used to never sleep in her room by herself, but she's now sleeping alone and waking up during the night to come and see me. However, I know that she will eventually be able to soothe herself back to sleep.
More confident after 1 week
More able to talk him through the going to bed routine and create confidence in his ability to be alone at bedtime.
Amazing Results!!!
My 9yo daughter was having an escalating issue with not sleeping through the night over 3 months. She got to the point that she would stay awake until about 11pm in her room until she passed out asleep and then woke up at 3am and stayed awake. She was too scared to go to sleep. We did one session from Bedtime Hero and she slept 10 hours the first night! We finished the entire program and she hasn't had an issue since. She has moments of fear and apprehension, so we take 5 minutes to review some of the things we've learned (like tapping into the power inside of her, visualization, etc,) and she rolls over and goes right to sleep. A life changing program!
Completely resolved
Bedtime Hero was very helpful. I recommend this program.
Seems to be effective
Less nervous at bedtime. After 3 weeks of using the Full Program his level of confidence about sleeping on his own is 10 out of 10!
Successful Sleeper!
My 8yo was terrified to sleep in her room. She would sob and be in hysterics at bedtime and would only sleep in our room. Within 1 week of starting Bedtime Hero she was falling asleep in her room, and within a few months she was falling asleep and staying in her room the whole night without coming to our room or waking us in the night. She now enjoys her room, feels safe, and doesn't protest at bedtime. I would highly recommend Bedtime Hero to anyone looking for an effective and nurturing way to support their child at bedtime.
Greatly improved
Talking about my child's fears and expectations for bedtime with this program helped him work through what he needed to do/change. The guides and the suggestions in the course were very helpful. He now has no fear at all.
Massive difference in a short space of time!
I was sceptical about Bedtime Hero but I was also desperate. Our 11yr old was TERRIFIED to sleep in her own room. Her imagination was wild and she imagined all sorts of horrors lurking in her room. She would only sleep in our bedroom.
After many a google search, I decided to give Bedtime Hero a go. It made such a massive difference in such a short space of time!
Our daughter now sleeps in her own room every night, she has no fears of being alone at night. I am so pleased with the program, I will recommend it to anyone who's child is terrified to sleep alone.
Thank You
My 8 year old has had sleep struggles her whole life. We have tried everything, including 6 months of therapy. Nothing worked until we found Dr. Lauderdale's program. Within 2 weeks, her anxiety is almost gone. Thank you, Dr. Lauderdale!
Really helped our daughter
So glad we found this program. It really helped our daughter make the move to sleeping through the night in her own bed.
More confident and sleeping on her own
Slightly improved
My son is 10 years old and still can't sleep alone although he keep trying. Maybe use different ideas or strategies.
Thank you
Sleeping well without anxiety
Not interested
My 5 years old smarter. She was exited about the story and wood like to sleep in the room. Read 2. After she was not interested. I give up sleeping in Cher, floor. The end is the same as soon I leave the room she wakes up and follow me :)))
Response from ShrinkinaBox
The program works best for 6-12 year old children.
– Dr Lauderdale
Greatly improved
Bedtime Hero was truly a game changer for us. My son was waking up multiple times a night, very fearful and anxious to go back to bed. It was exhausting for all of us. Bedtime Hero gave us powerful tools which worked almost immediately. Within two weeks of starting the program, he was sleeping through the night and going to bed on his own. If he ever has a rough day or is feeling anxiety at bed time, he will actually ask for his "power phrase." He knows it works and is comforted just by the reminder of what we learned. Money well spent! Thank you so much.
No concerns. Great program!
Bedtime Hero worked within days and the problems have not returned (it's been almost a year.) Our 8-year-old daughter was having difficulty sleeping by herself as a result of us moving homes. I followed the program with her and she was sleeping by herself within 4 days! I highly recommend this program. It was clear my daughter felt empowered and it was a great experience for me as her parent, too.
Great program. Thank you!
Hi Dr. Mark – Just wanted to send some feedback and a quick word of thanks for the Bedtime Hero program. For months, we have struggled to make any progress getting our 7 year old to sleep on her own. She becomes extremely anxious at bed time and everything we tried had little motivation for her – no reward or threat to take something away had any impact on her fear level. It just was real and we all couldn't figure out any strategies to make improvement.
I figured there had to be some sort of therapy we could try and upon a quick Google I found Bedtime Hero. My daughter was super excited to try it cause it seemed cool, she desires to be better at bedtime, it was something we could do together and frankly, it just gave us a different way to come at this problem.
The first night she rated herself a level 10 anxious, and I would have to agree. She wasn't even bluffing – she was terrified of sleeping on her own. Two nights in? She rated herself a 0. ?! Don't get me wrong, we have a long way to go, but look at her confidence jump and she's HAPPY. I can't recall a day where she's been happy in her bedtime routine. We love the tapping and thinking of good thoughts. This program resonated with her!
Wish us luck on continuing the journey, but I wanted to stop and say THANK YOU for this tool.