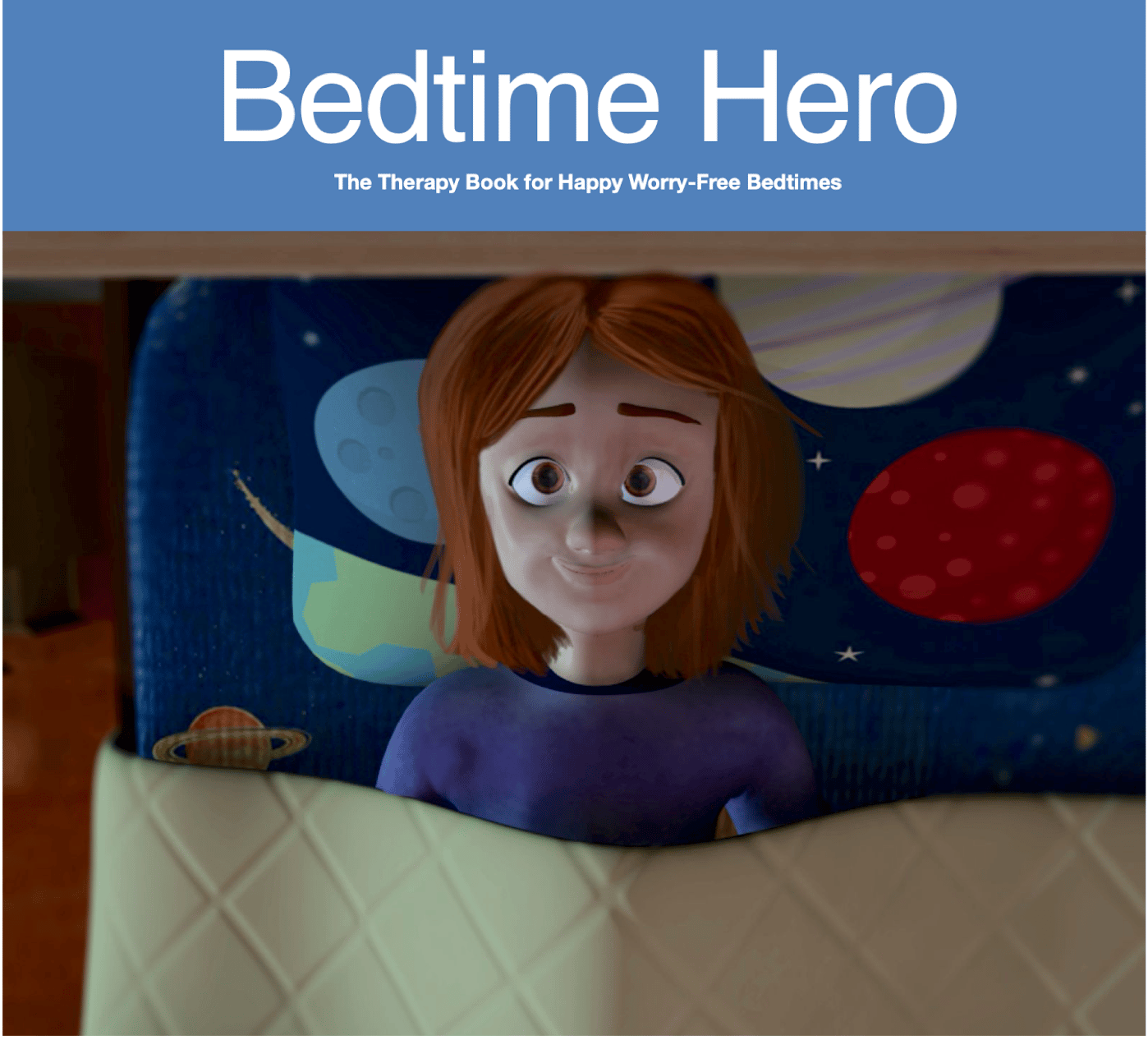 The Solution for the Child Who is Afraid of Sleeping Alone
The Bedtime Hero Interactive Ebook
A Therapy Book Developed by a Child Psychiatrist
Bedtime Hero uses an innovative therapy method developed by Dr Mark Lauderdale that has already helped hundreds of children who were afraid of sleeping alone.
Bedtime Hero is an entertaining ebook, designed for you to help your child eliminate their fears and learn to sleep alone.
Bedtime Hero interacts directly with your child to clear up the 7 most common bedtime fears.
This book is suitable for children aged 5 to 12 years.
What's the difference between the ebook and the online program?
Help Your Child Eliminate Their Fear of Sleeping Alone
Bedtime Hero is the lighthearted story of Royelle, a child who was afraid of sleeping alone. Your boy or girl is invited to join in as Royelle follows my instructions and uses his very creative imagination to come up with new and sometimes surprising ways of coping with his fears. Your role is to read the book with your child and support them as they follow the steps in the process. Royelle's journey helps him learn how he can use his imagination to make bedtimes better rather than always making them worse. In fact, he discovers how to feel calm, strong and confident sleeping alone .. in his own bed .. all through the night.
Here's quick book tour ..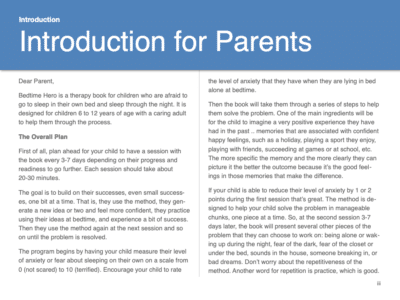 Introduction
The Introduction for Parents gives you an overview of the plan and what to expect as your child solves the problem one piece at a time. Goals are rarely achieved all at once. It's a gradual process that takes place with just a few weeks of consistent encouragement and focus. The Introduction also provides you with a script for engaging your child in the book and in the process.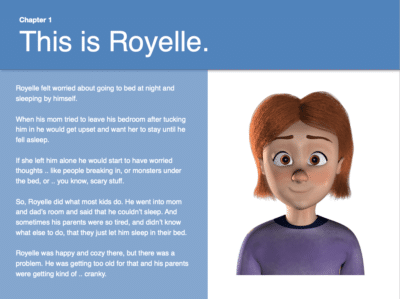 Chapter 1 Rating the Fears
In this chapter your child is invited to rate their level of anxiety about sleeping alone on a scale from 0 (not afraid) to 10 (terrified). It then helps your child pick the chapter of the bedtime fear that bothers them the most, rather than working through the chapters in numerical order. You start at this chapter every time you use the book and watch your child's fear rating drop week after week. All of the 7 common bedtime fears are covered in the book. Royelle's level of fear of sleeping alone started at an 8 or 9!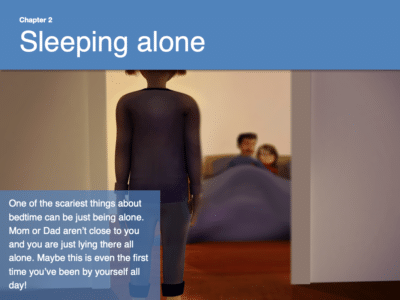 Chapter 2 Sleeping Alone
Sleeping alone can seem overwhelming to a child, especially when they have such good imaginations. This chapter helps your child look at how things will turn out if they keep on doing things the same old way. It helps motivate them to think of a new goal .. the way they really want things to be after they solve the problem. As Royelle exclaimed, "I'd like to be able to sleep by myself and feel proud in the morning!" The chapter goes on to show your child the tapping technique that allows them to mix together strong confident good feelings as they picture being alone in bed.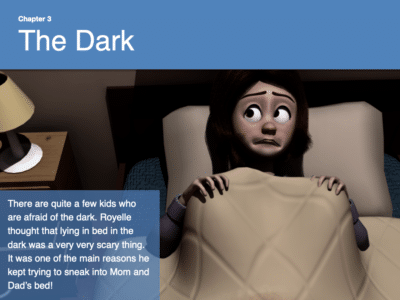 Chapter 3 The Dark
Being alone in the dark is a new and often scary experience for a small child. Their minds are not limited to reality like you and I. They can imagine monsters under the bed, or creepy people lingering inside their closet. Shadows can become real and hide scary things. How do you help your child learn to comfort themselves? Royelle learns what to do and shows your child the way. The chapter also provides an exercise that you can do with your child to help them stay grounded in reality.
Chapter 4 Intruders
Royelle had some fun with this one! He learned that he was creating movies inside his head about robbers breaking in, but since he was the director of the movie he was allowed to make up whatever ending he liked! Royelle had a good imagination so let's just say that things got quite creative, which I'm sure your child will enjoy! Hearing sounds in the house is a fear that is quite closely related to the fear of intruders. Some helpful information is also provided that could help your child understand and feel calmer about sounds in the night.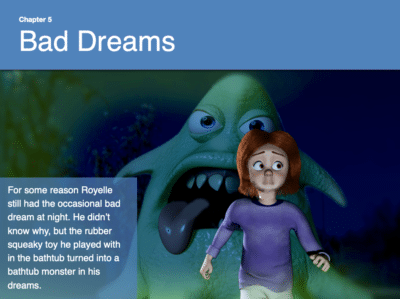 Chapter 5 Bad Dreams
Like the fear of intruders bad dreams are movies inside your child's mind, except that they occur during sleep. And yet, these movies can change too. Royelle had some fun with this also, which could lead to smiles and giggles from you and your child. Then you and your child can have more fun with it every night all week long.
Chapter 6 Strong and Confident
Once Royelle's level of anxiety had dropped to 1-2/10 we went on to tap into greater confidence and lock the good feelings into place. Royelle's level of confidence grew to 9 out of 10 (on the new confidence rating scale) and he was already happier sleeping in his own bed. Now he (and your child) have a solid concept of happy worry-free bedtimes continuing on into future.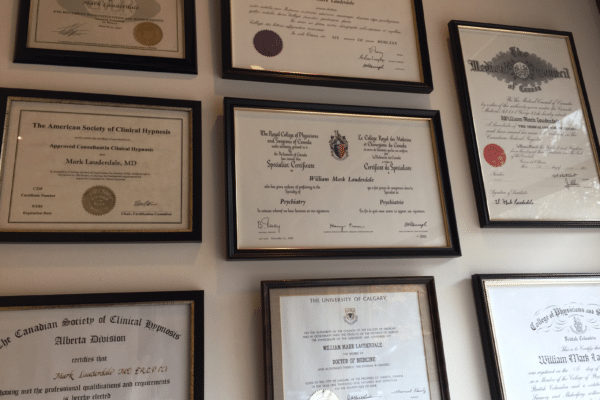 Use the knowledge and experience of a seasoned professional
Dr Mark Lauderdale is a child psychiatrist with over 30 years experience helping children with anxieties and fears.
Fellow of the Royal College of Physicians (Canada),

Past President of the Canadian Society of Clinical Hypnosis (Alberta),

Previously an Associate Professor of Psychiatry with the University of Calgary,

Provided consultation to several mental health and paediatric clinics,

Trained in many therapies including cognitive behaviour therapy (CBT), family therapy and hypnosis,

In private practice in Victoria BC, Canada.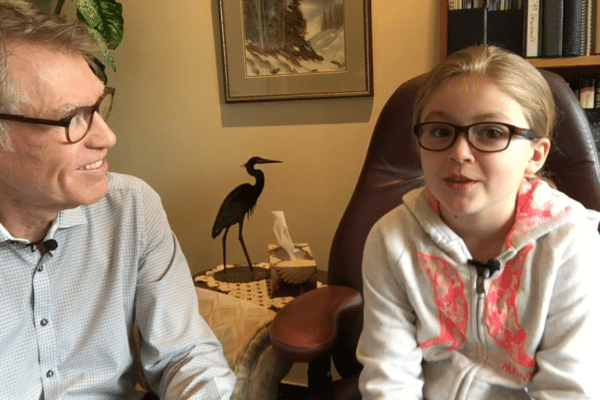 Use a proven method with exceptional results
The Wellspring Method was developed and refined for 20 years in clinical practice.
It is several effective therapies blended together into one step-by-step process,
It helps children feel strong and confident when facing a challenge, such as the nighttime fears and anxiety when sleeping alone,
In a case review of children with clinical sleep anxiety, 84% were totally improved and another 10% were partially improved,
The Wellspring Method is currently the focus of a research study at the University of Victoria.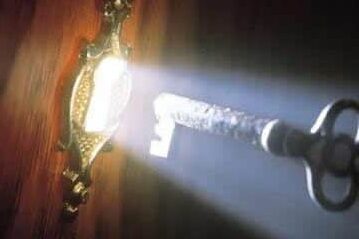 Stop searching for the solution to your child's nighttime fears and anxiety - you've found it.
How much longer do you want your child's nighttime anxiety to continue? Waiting for it to clear up on its own could take a long time while the pattern becomes more entrenched with each passing month.
Be careful with sleep anxiety tips and strategies you find on the internet. Every time you use advice that fails, it reinforces your child's belief that they can't learn to sleep alone,
Children like the feeling of learning to do something on their own (internet tips and strategies don't always support this),
The key to real change is that it occurs best from the inside out,
Bedtime Hero motivates and assists your child to solve their sleep problem themselves.
Start Having Happy
Bedtimes at Your House
Receive Your Bedtime Hero Ebook
and your FREE QuickStart Email Series for Parents.
Your email address will not be shared with anyone.
This ebook is downloadable in a personalized pdf format (38 MB). An epub version (151 MB) suitable for the Apple Books app, Android or other epub viewers is also available upon request after purchase.